Honeycomb Connect

People In Life Sciences (P.I.L.S.)
Compliance Column
---
Articles appear twice a month, exploring the complex issues and strategies driving global compliance in all areas of the pharmaceutical industry. Read all articles at: Honeycomb Connect

The Bitterest Pill
October 7, 2004
Merck suffered a huge blow last week when it announced the largest voluntary drug recall in history after a study confirmed that rofecoxib (marketed as VIOXX, Foldox and Meoroxx ) raises the risk of heart attack and stroke. While it may be tempting to simply take two aspirin and hope the pain of the VIOXX withdrawal will go away, now is the time for us all to review our role in the drug development process.
Show us your data
September 23, 2004
It has become clear that pharmaceutical companies are going to have to publicly register their clinical trials and be more forthcoming with the results – both good and bad! With around 350 registries already in existence, where, when and how will this data appear?
Direct-to-consumer advertising
September 13, 2004
It's hard to turn on the TV or look at a magazine these days without seeing an advertisement extolling the virtues of some new wonder drug and challenging you to ask your doctor if the drug is right for you.
Mergers and acquisitions: Do they add up?
August 23, 2004
At nearly every major merger announcement, executives state that laboratory synergies and the need to strengthen product portfolios by plugging pipeline gaps are major driving forces behind the deals.
Study Data Tabulation Model: Striving toward a standard clinical data format
August 9, 2004
There is mounting concern in the industry that basic research is not resulting in safe and affordable products reaching patients quickly enough.
Statins: The highs and lows of cholesterol-lowering medications
July 20, 2004
Federal health officials have released updated guidelines on cholesterol management advising physicians to consider new, more intensive treatment options for people at high and moderately high risk for a heart attack.
Six Sigma: Just another quality system?
July 8, 2004
Quality systems are not new to the pharmaceutical industry and most companies will be familiar with cGXP and ISO 9000. However, before dismissing Six Sigma as just another quality system, and throwing all that promotional literature away, remember that Six Sigma is a set of continual improvement tools.
FDA guidance: three-part series
June 21, 2004
The third of the new FDA guidance documents, entitled Good Pharmacovigilance Practices and Pharmacoepidemiologic Assessment, focuses specifically on post-marketing risk assessment.
June 7, 2004
This issue of the P.I.L.S. Compliance Column concentrates on the second of the recently issued draft guidance documents, Development and Use of Risk Minimization Action Plans and discusses its significance for the compliance community.
May 17, 2004
This issue of the P.I.L.S. Compliance Column explores "Premarketing Risk Assessment" and FDA recommendations to maximize the information gained from clinical trials.
A risky approach
May 3, 2004
FDA identified efficient risk management as the primary way to make the most effective use of resources and address the challenges of public-health protection.
Checklists: Compliance or reliance?
April 19, 2004
The pharmaceutical industry is among the most heavily regulated -- and rightly so.
The road to regulatory compliance
April 5, 2004
It is perhaps most appropriate to begin at the beginning and explain the origins of modern-day regulation in the industry.

---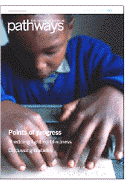 Novartis Pathways
Excerpta Medica
BioTECH International
A Reed Elsevier Publication

Good Clinical Practice Journal (GCPj)
Brookwood Medical Publications

Inpharma Weekly
Adis INTERNATIONAL
Pharmacoeconomics & Outcome News
Adis INTERNATIONAL
---
Trials and tribulations - clinical trials and the road to new arthritis medicines (pdf)
---
An overview of the problems associated with viral gene delivery
(BTi Nov 1999 Volume 11, No. 5)
Has Gene Therapy Finally Delivered?
A follow-up article to "Viral Gene Delivery"
(BTi June 2002 Volume 14, No. 3)
Country Focus: France. Neighbors but a World Apart - Biotechnology in Alsace and Burgundy
(BTi Jan 2000 Volume 11, No. 6)
---
Size Matters - an interview with Philip Ledger, PHARMITRA
(GCPj Vol. 6 No. 5, September/October 1999)
Facing the challenges of clinical trials in cancer
(GCPj Vol. 6 No. 4, July/August 1999)
Does anyone really like statistics?
(GCPj Vol. 6 May/June 1999)
Over the counter
(GCPj Vol. 5 November/December 1998)
A European experience
(CGPj Vol. 5 September/October 1998)
Good Clinical Practice - Standard Operating Procedures for Clinical Researchers
The role of biopharmaceutics classification system and in vitro-in vivo correlation in the approval of drug products
Accelerating proof of concept - rapidly progressing to therapeutic studies
Streamlining Phase I/IIa Trials
---
Role of oxaliplatin in colorectal cancer
(4 March 2000, No. 1227)
Gene therapy: promising in cerebral tumours?
(18 March 2000, No. 1229)
Epoetin alfa improves QOL in cancer-related anaemia
(26 Feb 2000, No. 251)
---
Secondary upper limb lymphoedema: the QOL impact for women
(25 March 2000, No. 255)
Cost of inpatient care for children's acute lymphoblastic leukaemia
(1 April 2000, No. 256)
---
Visit the OneScience Forums and joiun in the discussion on biotechnology, the drug industry, finding a job, biomedical collaborations, weird scientific news...........and more.
---